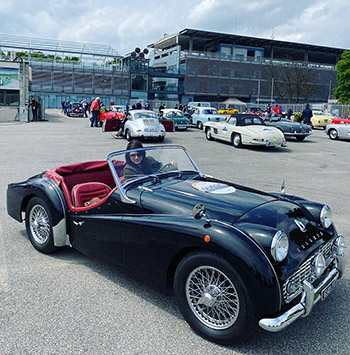 TopClassico is a weekly online magazine in two languages (English and Italian) at the service of historic car enthusiasts and collectors.
Working as a professional journalist for major classic car magazines, I often come into contact with great people, automobiles, collections that would be wonderful to write about. Often, with experts on the subjects and friends we have felt that a medium to collect and record historical facts and or anecdotes, was necessary before they disappear.
So, why not take advantage of the opportunity offered by the Internet to make such stories accessible to all? Why not create a telematic bridge to share information, experiences and cultures, which would interact from one country to another, across the continents? That's why TopClassico was born, also with the intention to be of support to readers with useful contents.
TopClassico is delivered via e-mail every week with a newsletter awaited by thousands of readers throughout the world. However, all contents permanently remain published here in www.topclassico.com where you can also find more updates during the week with videos, news about events and photo galleries.
TopClassico has several contributors who are well experienced and classic car owners. We hope that the community will grow as well thanks to the readers and their comments to the articles, suggestions and ideas. In other words, we are full of excitement for this new adventure and look forward to feel your enthusiasm as well (🔝)!
Laura Ferriccioli
Editor in Chief
ferriccioli@topclassico.com