Gilco, the chassis innovator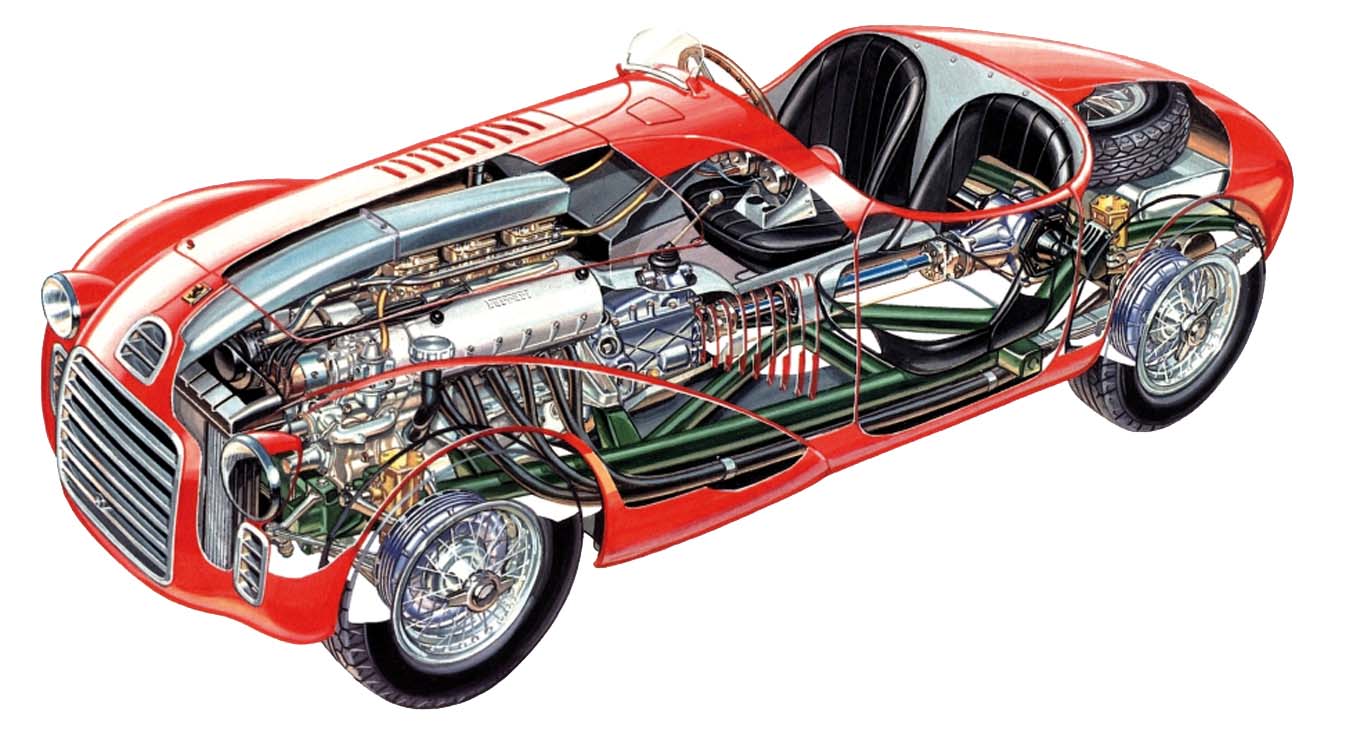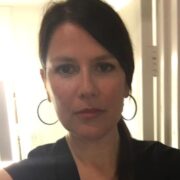 It's nearly impossible to find an Italian racing car from the 40s and 50s that does not have a chassis signed by the famous Milanese genius of cold bent tubes. In the year of the centenary of the birth of Gilberto Colombo, we honor his memory together with a close collaborator oh him, Martino Colombo
Gilberto Colombo was the king of chassis. The first technician to understand and spread the concept that a solid, strong but light structure was as important in racing cars as the engines. He was born on August 28, 1921. This year he would be 100 years old. An engineer, he had worked in his father's aeronautical steel industrial products company before founding Gilco Autotelai in Milan, where he was born. With that brand (Gilco was an acronym composed with the first letters of his name and surname) he marked the era of the golden age of racing, the fifties. He signed all the racer chassis of the most important manufacturers of the time in Italy, starting from the end of the previous decade. Thus contributing, with its cold bent molybdenum corm tubes, to the success of many car manufacturers.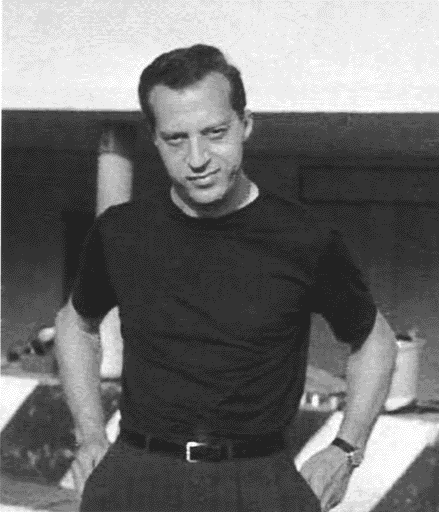 Ferrari, Maserati, Alfa Romeo. But not only that, also Ermini, Nardi-Danese, Giusti. The first ever to want a Gilco chassis, in 1946, was Stanguellini. From the traditional 750 and 1100 frames of the Topolino, on which the urgency was to increase road holding, Gilberto Colombo has always developed solutions with a high rate of innovation, immediately passing to the most modern tubular chassis. From which, in 1950, he created the exclusive Tuboscocca model, a complete "cage" aerodynamic structure, which in some cases also included integral body support (Isorigid model).
Martino Colombo, born in 1952, worked with him until Gilberto passed away in 1988. "We were cousins", he specifies. "He knew I was studying at the Polytechnic University in Milan and when he needed a designer he hired me. It was 1981".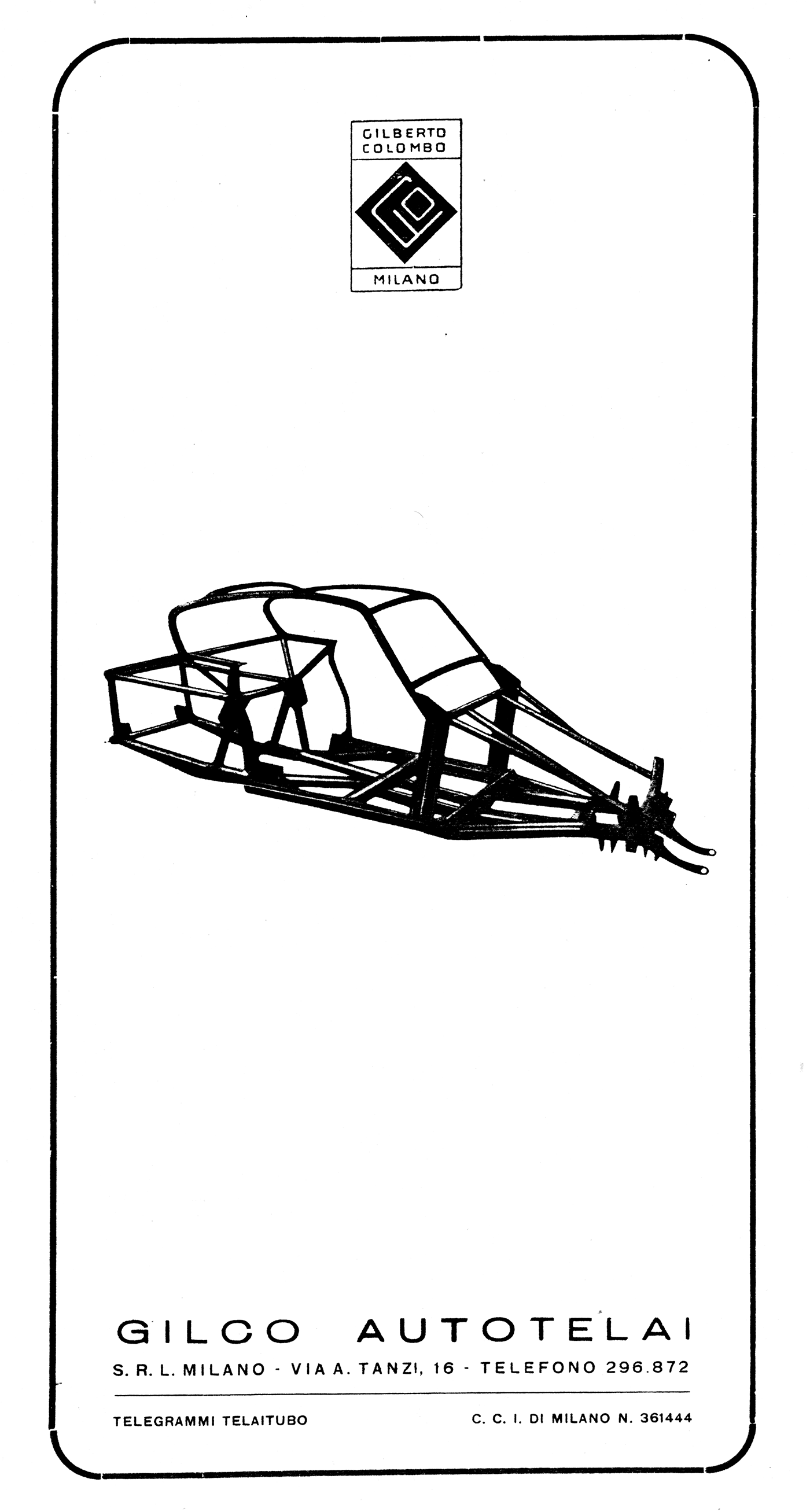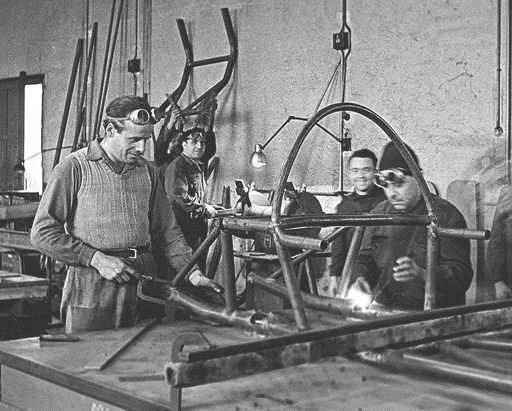 When did Gilco first approach the frames?
"After graduating from classical high school, Gilberto, in 1939, devoted himself day and night to a chassis because he had the idea of racing at the Mille Miglia. With the support of my father, who managed the drawing and production in his family's company, he put together a car that in his mind was a racing car. Althought it was based on the old components of a wrecked Fiat 1500 6-cylinder and did not last long. It was the first Gilco ever. After this experience, Gilberto enrolled at the Milan Polytechnic where, just after the war, Professor Mario Speluzzi, technical director of the Ruggeri brothers' Scuderia Milan, encouraged him to design a tubular frame, which was in fact the first built and sold by Gilco".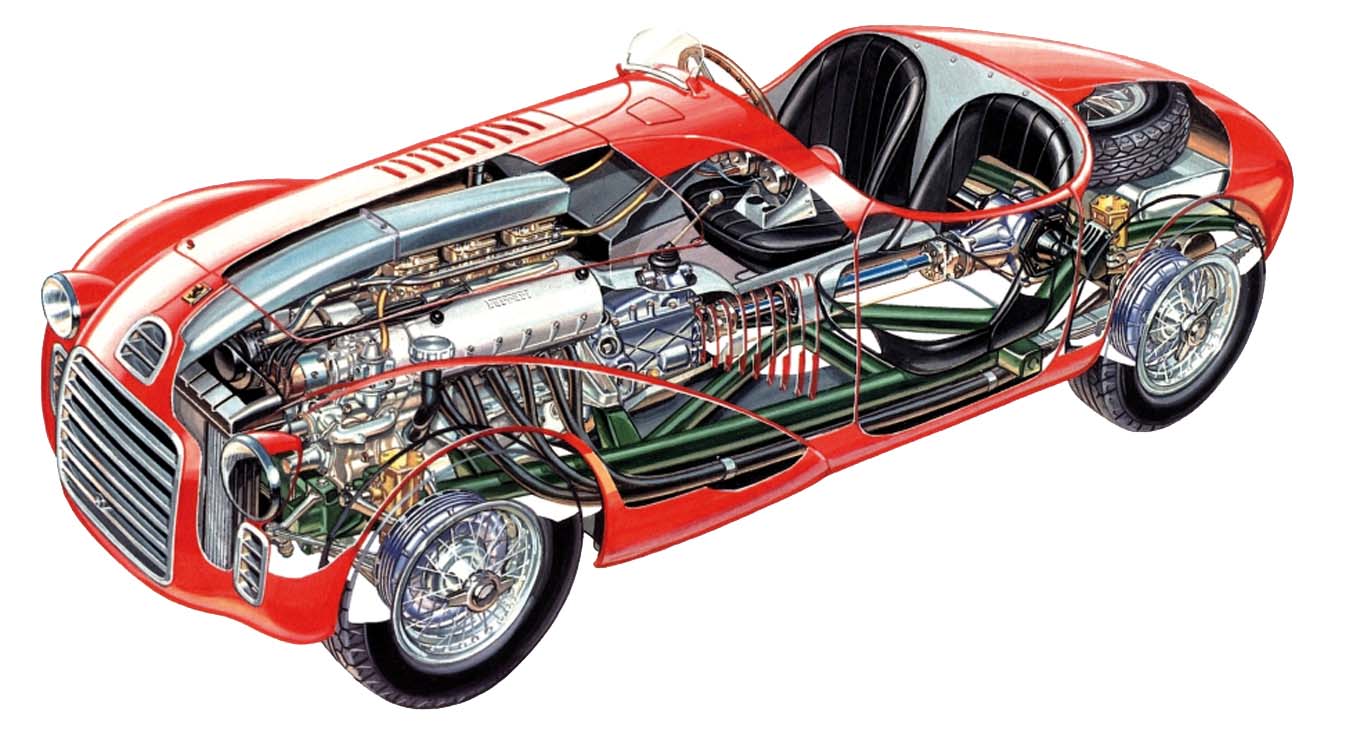 And how did the intense collaboration with the Cavallino start?
"At the end of 1946, while he was technical director in his father's company, Gilberto saw an advertisement in Corriere della Sera by Enzo Ferrari who was selling milling machines. He needed them. Welcomed in Maranello by the accountant who took care of the sales, when he heard the price he took a step back. A few minutes later "the Commendatore" revealed to him in Modenese dialect that he was finally finishing a car, so he was needing money. Intrigued, Gilberto asked him about the car, starting to talk to him about the chassis he had started making in his father's company, which Ferrari knew. At that point they moved to the technical office, where Gioacchino Colombo and two designers were introduced to Gilco. They all went on talking until midnight and when Gilberto left, he brought with him a nice handshake from Drake, who had commissioned him to build the Ferrari 125 S chassis. Other than milling machine! Thus was born an alliance that lasted for the entire following decade".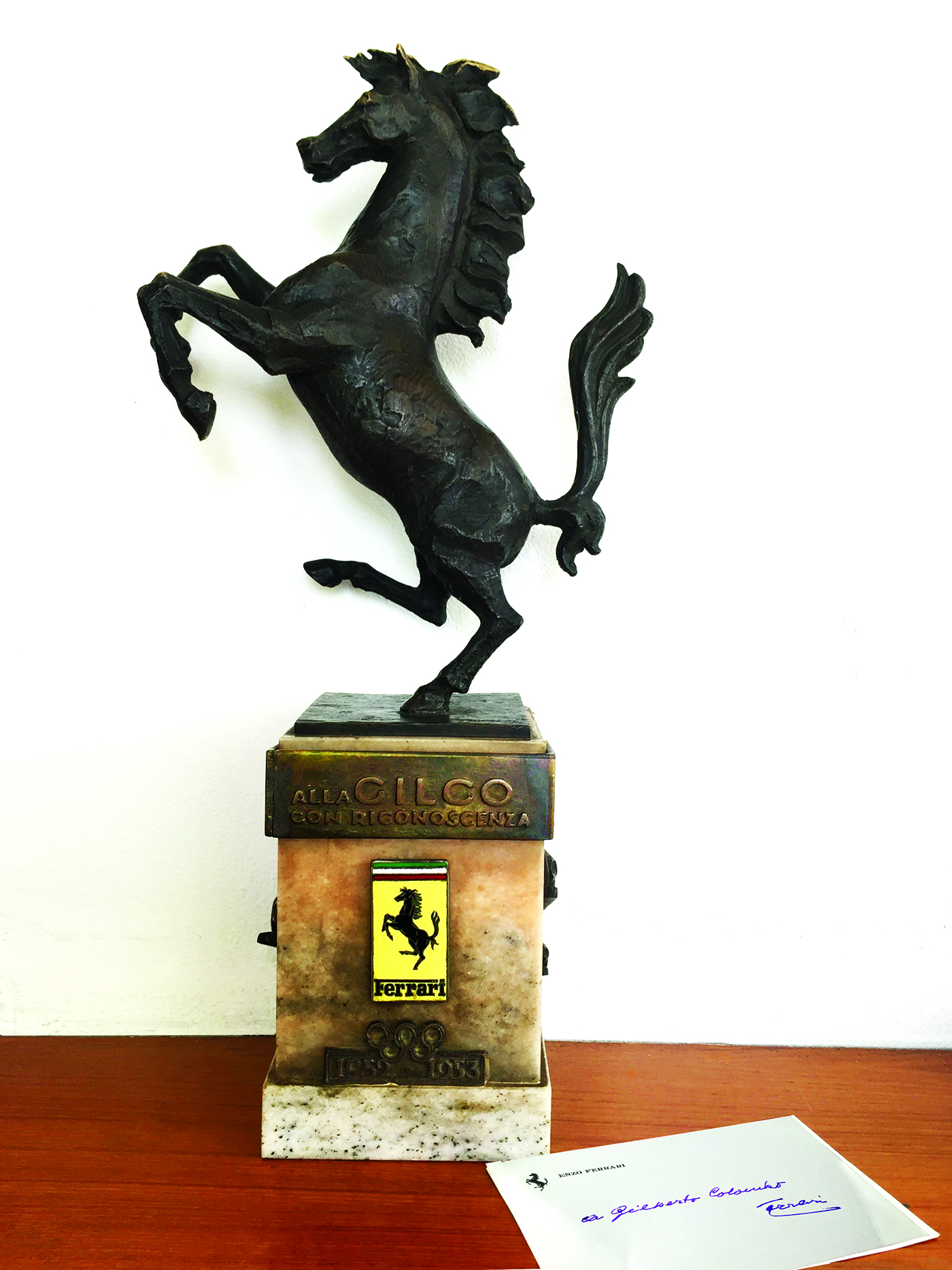 We can say that all Ferrari chassis from the birth of the brand until 1958 are the work of Gilberto.
"My cousin told me that those years were among the best in his life: Ferrari arranged an office with a designer available to him in Maranello, and he spent a couple of days a week there".
Then there was the stop to racing…
"1955 was already a traumatic year for Gilberto because Alberto Ascari, a great friend of him, died in May. Then, about a month later, the Le Mans tragedy troubled him deeply again. For Gilco, which had grown to twenty employees, the suspension of the races caused a terrible period from the financial point of view. In addition, there were health problems for Gilberto and constant conflicts with his father, who, despite all the frames his son had made, didn't like his commitment in this field. Gilberto also told me that Enzo Ferrari, knowing of this family difficulty, told him one day that if he wanted he could move to work with him: "I'll build you the shed and you will be my chassis man". But Gilberto did not accept, and several times he told me he had made a mistake. After all, however, if he had accepted he would not have been able to engage in his other passions, that is to manage his own company and design boats and bicycles".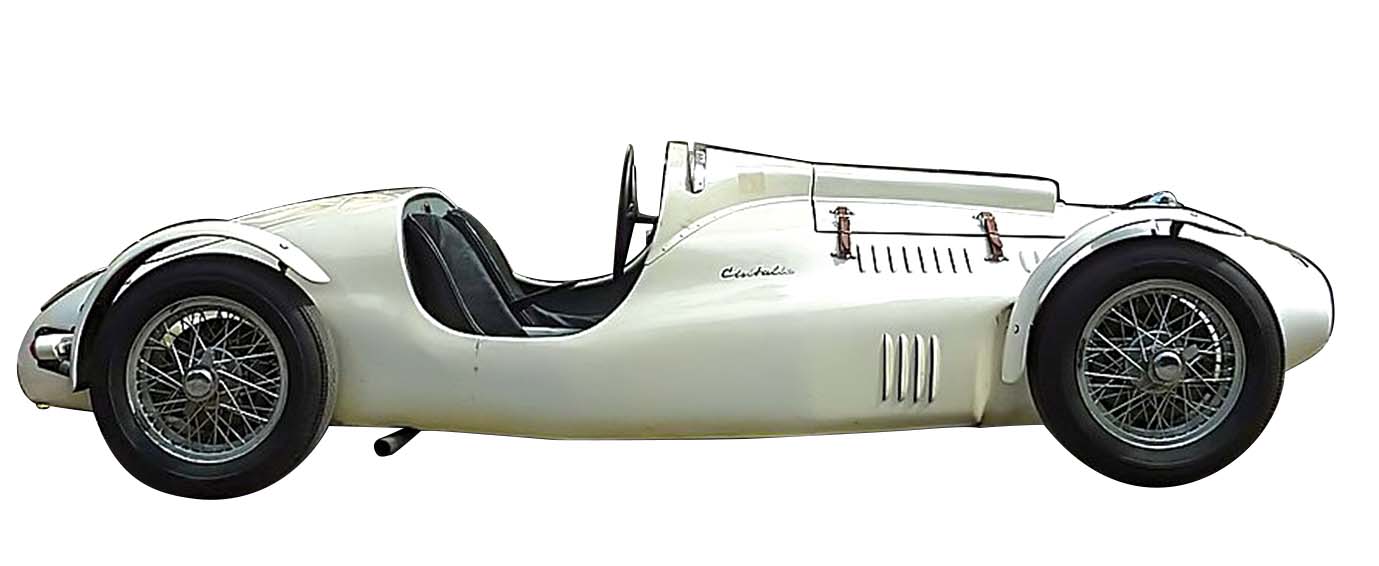 The Cisitalia 202 one-off of La Motta baron, its chassis and, below, a detail of its project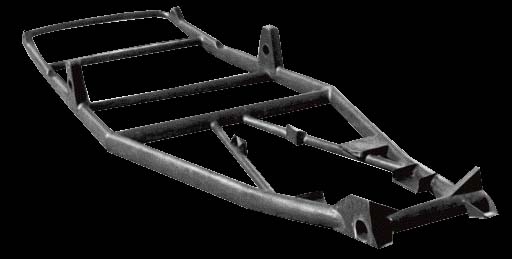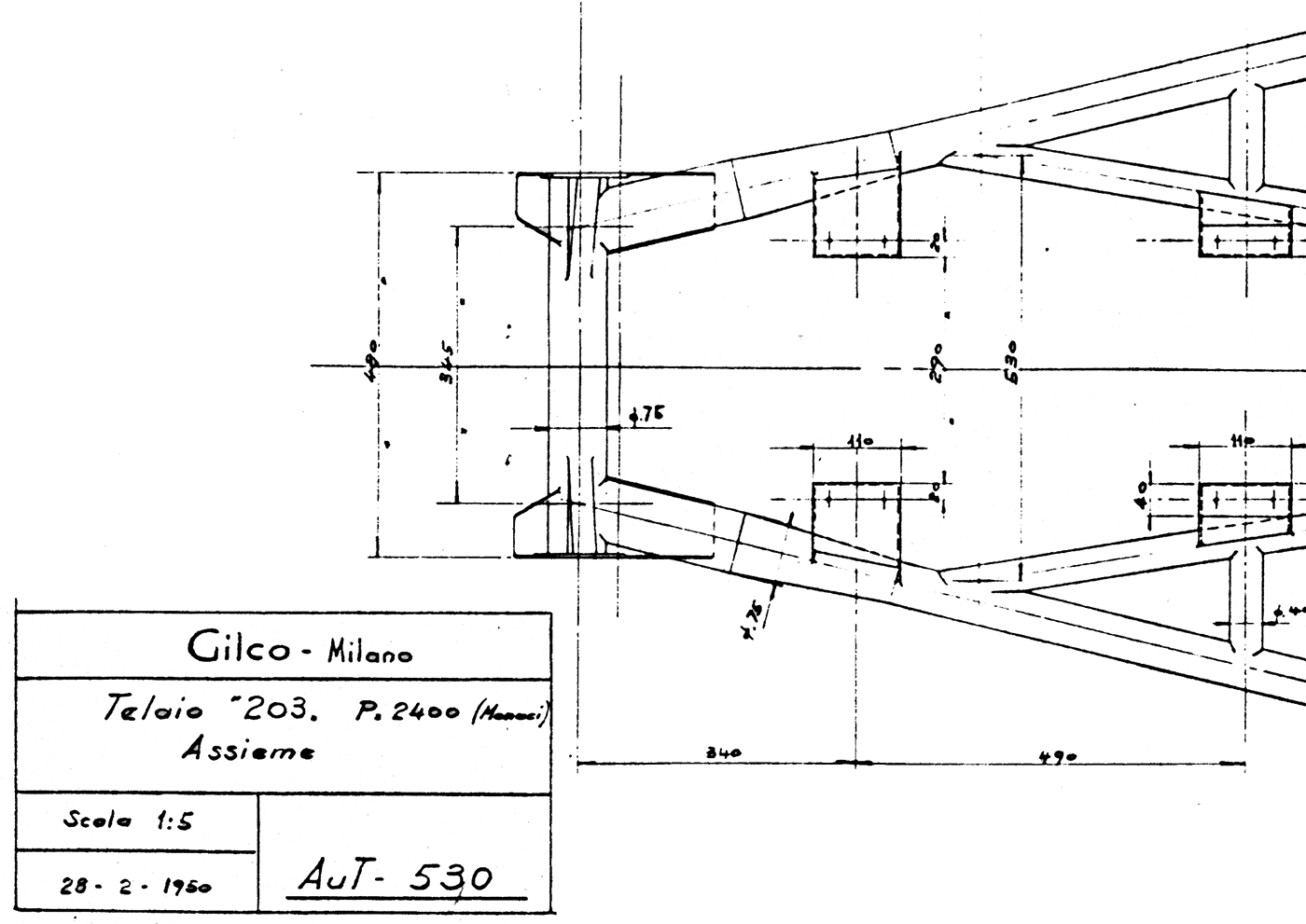 What was Gilberto Colombo like, what was it like working with him?
"He was a person who made others feel at ease, at work he gave a lot of information..! I owe everything I learned in the field of design to him. He told me that from when you start with a blank sheet to when you get a good result you have to rethink and redo everything seven times".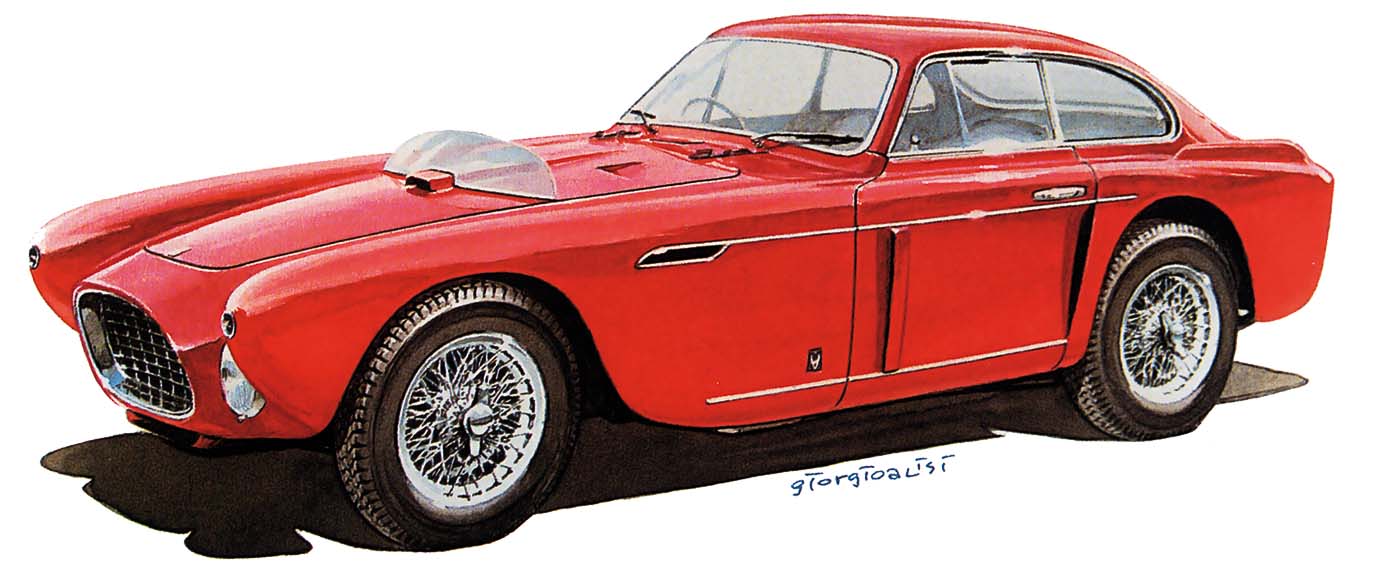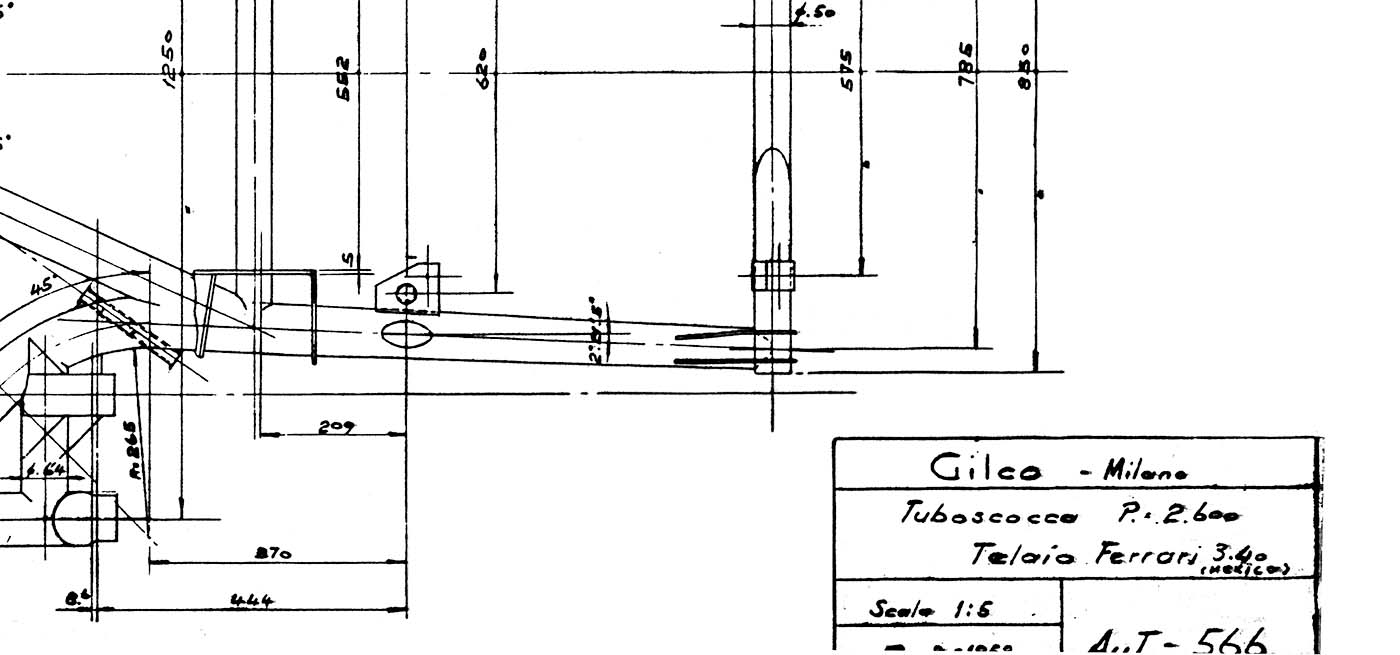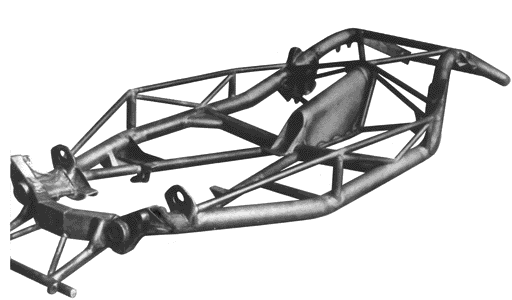 What was the last Ferrari project signed by Gilco?
"It was the first prototype of the Ferrari 250 Testarossa, but the collaboration continued even after, as happened with other manufacturers, including Maserati. When he left his father's factory in 1966, Gilberto retained ownership of the Gilco brand but could no longer devote himself entirely to automobiles. He took over Trafiltubi (which still exists and holds Gilco's corporate archive and historical register) and has been involved in motoring as an independent professional. He was also called to Lamborghini for some test runs on the first GT, the 350. In the 1960s he then set up a company, Tecnostructures, with which he built the chassis of the Fiat Ghia 1500 GT".
Among the many road rarities which have a Gilco chassis there is the splendid Alfa Romeo 6C 2500 SS, the only one of the four examples made.
"It came as a surprise to those who bought it in the 1990s, who expected a normal Alfa Romeo chassis and discovered during the restoration that it was a Gilco. I heard it from Angelo Tito Anselmi, the journalist: he had been contacted by the Austrian who had bought the car and together we went to authenticate it. It happened after the death of Gilberto, who created several projects for Alfa Romeo: probably this chassis also had to house the mechanics of the subsequent 6C 3000 which was not produced later on".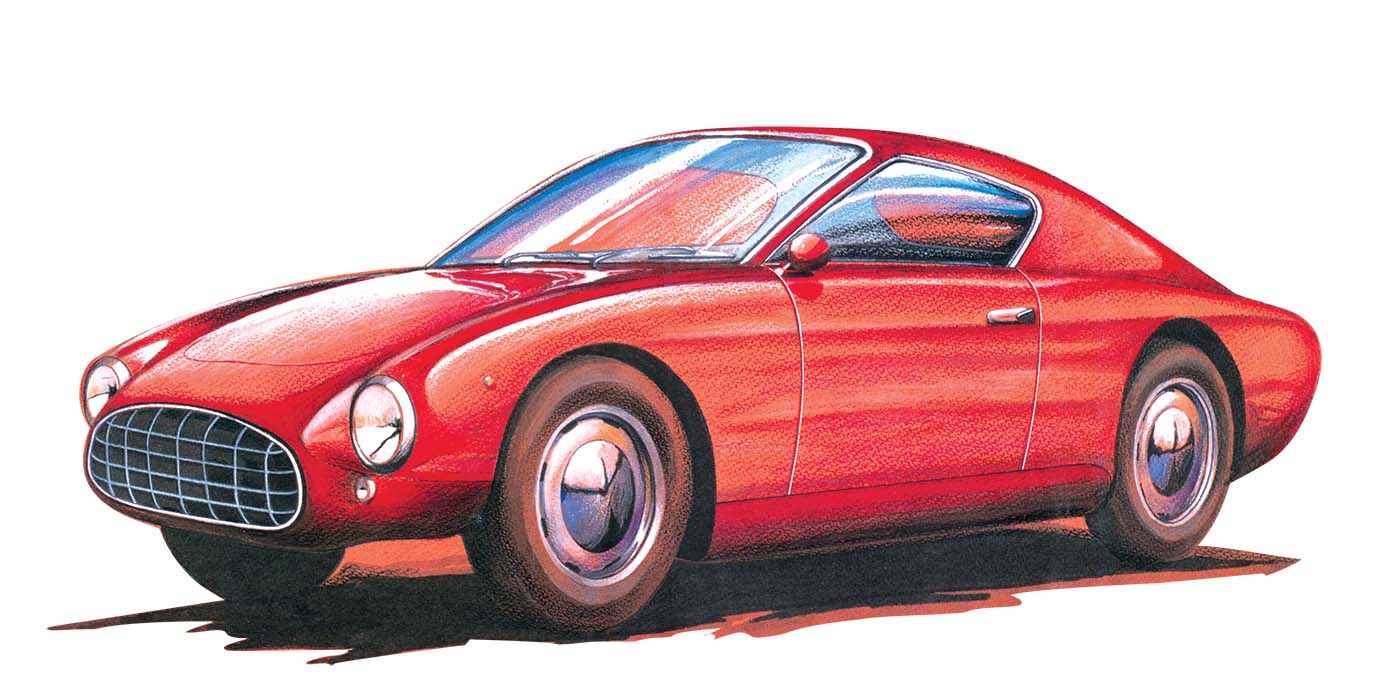 There are also many cars that have not seen the light, including the Gilco 237 that the engineer had studied for Cisitalia when the company was now under receivership.
"Gilberto suggested to Dusio the son to build a less expensive car than the Berlinetta 202 to allow the company a greater margin. And he had begun to put together a tubular chassis with the mechanics of the Fiat 1400: it is the only Gilberto project that has survived up to us complete, with the chassis already completed and the body sheets. Then there are some drawings for a Cisitalia 403 Competizione that we never understood what it should be. Perhaps another version, perhaps racing, of the 202D with 2000 bpm engine. In the meantime, we learned that the four 202D chassis are from Gilco ".
Gilberto Colombo also thought about the efficiency of the bodywork and in some cases he took care of it directly.
"It's true, in fact not many people know it but inside Gilco there was also a small department with three panel beaters, one of which came from Zagato. Many bodies have been developed by Gilco for gentleman drivers, but not only. The company had started studying style and had worked for Vignale. While with Maserati Gilberto collaborated on the 3500 GT, even if the sketches of the Touring were chosen. The Berlinetta 214, built with an Isorigid chassis, has always been considered a work of Zagato but in reality Gilco had also built the bodywork. In 1953 it was his personal car, a unique piece later exported to the USA. It was a project that he had proposed for Siata Daina, with Fiat 1400 mechanics ".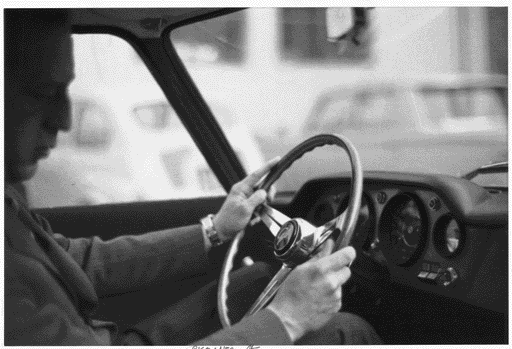 In what automotive projects was Gilberto engaged in more recent times?
"The bodywork proposal for the Daimler SP 250 and a project for a Group B rally Alfa Romeo together with Zagato, never produced. Gilberto was also asked for a supercar, the Diablo, which was to be built by replacing the multitubular chassis of the Countach (herearticle here). The solutions chosen by Lamborghini were then others but in the meantime even in the Eighties, technologically much more advanced, in terms of extreme technique Gilco continued to have a good say in the matter".
This interview also appeared in the monthly La Manovella
© UNAUTHORIZED REPRODUCTION FORBIDDEN