Historic Moto Alpinistica
On Sunday 17 July, the long-awaited event of the Historic Club Schio for pre-1945 motorcycles took place under the new name Historic Moto Alpinistica, accompanied by a splendid sunny day.
The rally is inspired by the motorcycle events that took place in the Vicenza area as early as the Thirties, celebrating the deads of the Great War, from Pasubio to Asiago. The departure, from the suggestive square of the chess of Marostica, saw the presence of many models of yesteryear and in particular of two veteran Moto Guzzi Sport built in 1926.
With participants from all over Italy – including Rome, Modena, Rovigo, Pordenone, Como and Lecco -, the 30 motorcycles took the Bassano route reaching Oliero and, from here, driving towards Foza, headed to the special stage of Valstagna (open to traffic), defined as "the University of Rally".
The centaurs then reached Malga in Marcesina and, later, Asiago for a souvenir photo at the Military Memorial. Here, many tourists approached them to ask for information on the vehicles, to find out the reason for the re-enactment and to experience the thrill of observing the mechanical works of the time: all technology made to last. The lunch with the delivery of the participation medal took place at the Baita Monte Corno.
See Also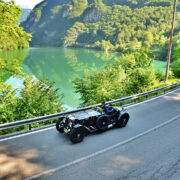 The scenic roads and the landscape among the woods and the mountains literally captivated the participants, while the reaction with the raised thumbs of those who met these daring motorcycles of yesteryear was also fantastic. The rally was a concentrate of emotions for everyone and, even if some vehicles had some small breakdowns, promptly resolved with the collaboration of some superfine mechanical experts, it showed what it meant, almost a century ago, to travel these roads on wheels, with the strength of their respective engines, a pinch of recklessness and a massive dose of courage.
The rally ended by returning to Marostica to meet in 2023 and, meanwhile, at the next Dolomitando event, also organized by the Historic Club Schio, to be held on Sunday 31 July: it is open to all motorcycles produced from 1960 to 1990.
CLICK ON THE PHOTOS TO BROWSE THE GALLERY